ABOUT US
SHARING THE SAME INSPIRATION FOR LIFE.
Creation inspires us. We do not squeeze nature dry, we approach it with the greatest care and respect. We do not do this to follow a trend, but because it is logical for our livelihood. Top quality grapes only ripen under intelligent conditions. People are part of nature. Respecting them is equally important. Who is responsible for the high quality of our sparkling wines? All of us.
Birgit & Norbert Szigeti
A-NOBIS was founded in 2018 by Norbert Szigeti, probably the most experienced sparkling wine producer in Austria, together with his wife Birgit. Numerous awards confirm the success of decades of deep dedication. In autumn 2020, the couple opened Austria's most modern sparkling wine cellar in Zurndorf in Burgenland.
OUR TEAM
At A-Nobis, we focus on the people. Our committed employees bring life to our company and give it a soul. New creative ideas result in outstanding projects that drive our business forward and ensure future success. Close cooperation and commitment that comes from the heart are the values we believe in.
OUR CELLAR
is much more than a production facility. It is also a place for people to come together and enjoy our sparkling wines and exciting events that are well worth experiencing. The building, with its tasteful architecture, is carefully designed to not only be functional, but also to create the perfect atmosphere in which to offer the highest quality sparkling wines.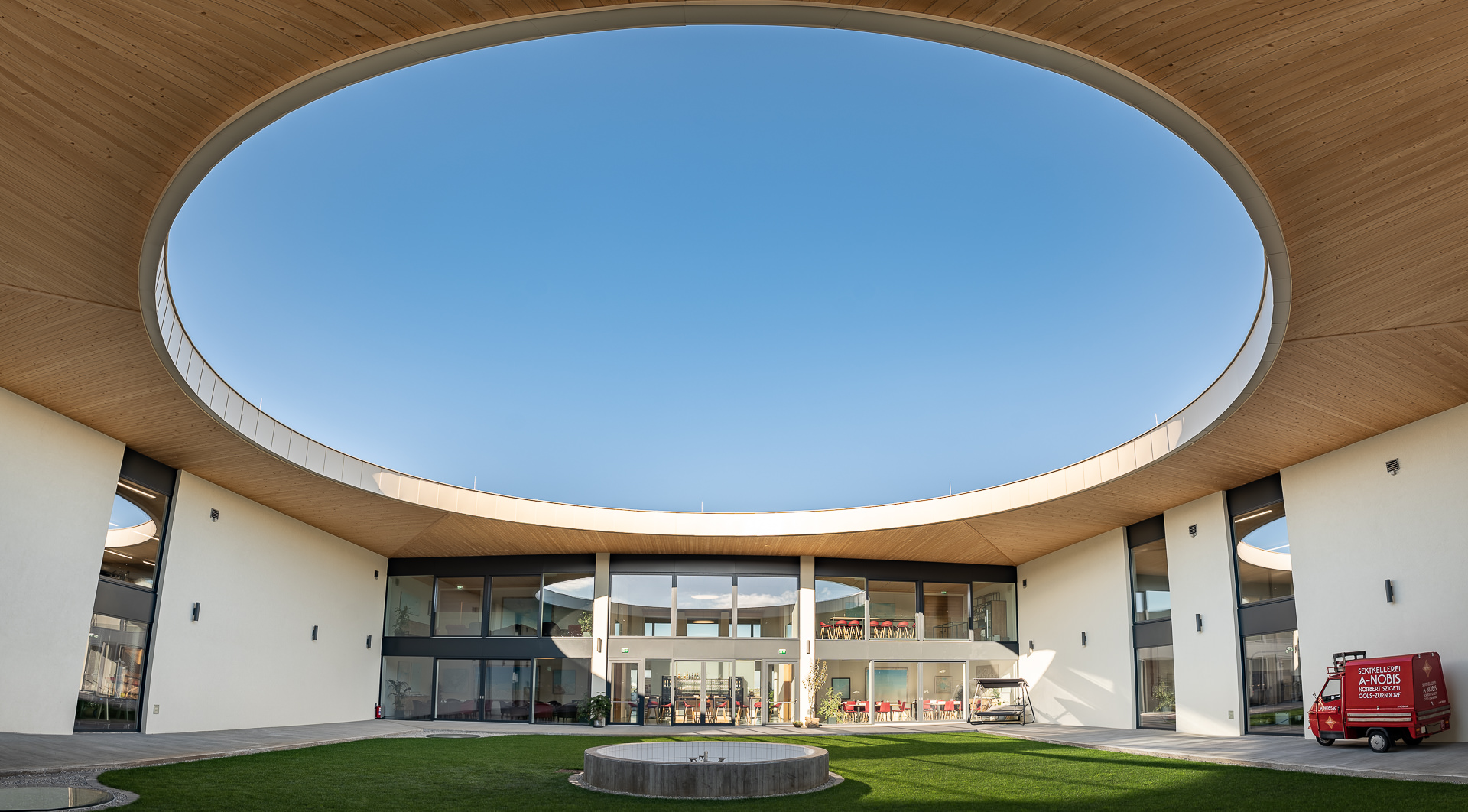 Photocredit: Andreas Hafenscher Photography
CO2 NEUTRAL
Greenbuilding
The new, state-of-the-art A-Nobis Sparkling Wine Cellar impresses with its sustainable building materials and outstanding resource efficiency. Not only does it save energy and water, it is also incredibly environmentally friendly, ensuring a healthy atmosphere.
Only a fifth of the approximately three hectares of land has been built up (including parking spaces). The remaining land is being transformed from a field into a diverse natural habitat with great attention to detail and care to ensure biodiversity. Over 1,000 trees will be planted around the sparkling wine cellar.
250 meters of living green walls will serve as a natural air conditioning system for the sparkling wine cellar. This will also guarantee the colonization by microorganisms.
The water consumption is kept as low as possible thanks to the latest technology.
The company is certified organic.
A 100% green energy supply is ensured with the help of a photovoltaic system. Energy not consumed by A-Nobis is fed into the public grid!